If you don't already know or don't keep up with ABC's Shark Tank, the 'Scrub Daddy' is the best performing product ever featured. Earlier this year, it was reported that the company had sold more than 10 million units and made over $50 million in sales with some assistance from QVC and investor shark Lori Greiner.
Watching one of the most recent episodes of 'Beyond the Tank', a number of insights were shared about the future of the company. Their portfolio of products continues to evolve with items like Big Daddy, Sponge Daddy and Lemon Fresh Scrub Daddy — and according to founder Aaron Krause, he will continue to "launch new products and open new markets".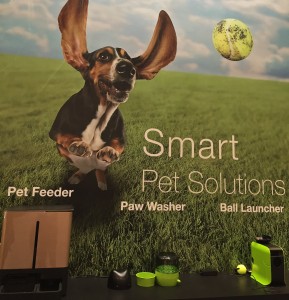 So while at CES earlier this week, I came across the first product, albeit still in development, that could potentially solve a common urban problem: dirty dog paws. What if the team behind 'Scrub Daddy' developed a version of their sponge that was gentle on dog paws and could immediately clean them? Given the number of pet parents in downtown Chicago, I could see this product being tremendously successful on slushy, snowy and messy days or even for everyday use.
And if they do develop this type of product, it would make for a very interesting potential collaboration with WÜF, the world's smartest dog collar.
Jonathan